Thanks to Amazon's latest flash sale, the PowerColor Hellhound Radeon RX 7900 XTX cards dropped to RTX 4070 Ti price points. With July 4 deals on the horizon, similar deals are most likely to be offered by more retailers.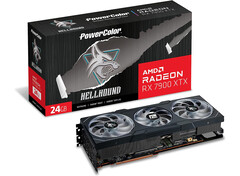 General gaming GPU availability has improved significantly in the past year compared to two years ago when the market was suffering from pandemic-induced shortages and BTC was surging towards ATH. GPU prices, on the other hand, remain high synchronized with the inflation rate, and now generative AI is threatening to bring back all the supply shortage problems similar to how things were during the crypto mining era. However, AMD's RDNA 3 gaming GPUs are in an interesting position right now, as they are not targeted by AI developers.
Unlike crypto mining, generative AI appears to run best on Nvidia's cards due to their more advanced Tensor cores. AMD has AI cores too in its RDNA 3 cards, but software support is not on par. Consequently, Nvidia's high-end RTX 4080 and 4090 cards have barely seen any price cuts since launch, and supplies are still tight, whereas gamers seem to be favoring the RX 7900 cards with lower price points and more generous discounts of up to 17% off MSRP.
Amazon's flash sale for the PowerColor Red Devil and Hellhound versions of the Radeon RX 7900 XTX brought prices for the flagship AMD GPU down to US$829.75 with a special US$100 coupon. Unfortunately, the offer lasted only several hours and is not available anymore. Nevertheless, it looks like AMD is now more inclined to allow for such flash sales and we could see similar offers in the coming days as we get closer to the 4th of July deals.
While market analysts expect increased prices and lower supplies for Nvidia's high-end cards, the generative AI craze could still turn out as a boon for AMD. The plentiful RDNA 3 supplies should prompt for more discounts, pushing the RX 7900 XTX prices closer to the Nvidia RTX 4070 Ti MSRP of ~US$800.
Buy the PowerColor Hellhound AMD Radeon RX 7900 XT gaming GPU on Amazon